Insurance is tricky. It's not like buying a chair, or groceries. When you buy insurance, you are buying a promise. At Allianz, I had the opportunity to make the promise of ease of mind on the road a reality for more than 8 million car owners.
Between 2014-19, 3 agencies,  SinnerSchrader, BrandUnion (now superunion) and dmcgroup, with several Allianz inhouse teams enabled the Allianz Digital Transformation. The work of over 350 people cumulate in the relaunch of two digital projects: the  allianz.de main portal, and its first digital product, the first e-commerce car insurance.  I became the Lead UX Concepter on this high profile project.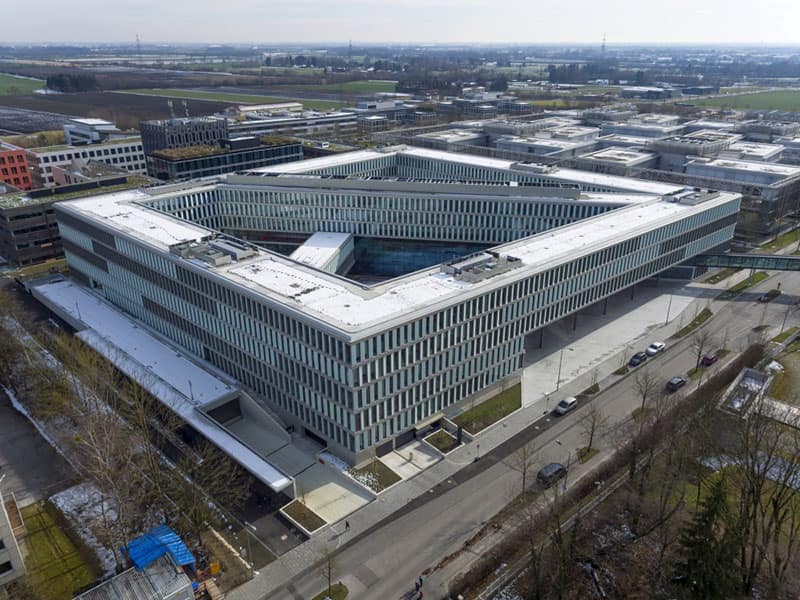 The Allianz headquarters in Munich, Unterföhring where I worked for a year. It's an office space occupied by at the time 8500 Allianz employees.
The "embedded" SinnerSchrader concepters in one of the larger Allianz headquarter team offices (I'm in the back row on the left)
At the time I was freelancing for SinnerSchrader as "embedded' UX / Digital Product Designer in a 40 people team. My job was to reformat the content of the main auto insurance process.  
At the time, one third of all Allinaz revenue was generated by this one process. Its optimisation  was a big deal. 
it was 2016, and digitalisation and responsive adaptation were in full swing, yet the online car insurance was still a 10 step process on separate pages that most customers avoided and chose the in-pereson offline process with an Allianz dealer instead. Everybody knew this digital process had to change, but nobody dared to touch it because of its significance.
IN 2016, millions of people were stuck in a government process limbo when buying or selling a car. Should you get license plates first, or get the state required insurance first? Should you sell first, then cancel the insurance or cancel the insurance first, then sell? And then there was this form to fill which took most people about 2-3 hours. Getting car insurance online back then was a painful thing.
Sometimes, being a new UX freelancer on a project gives you a chance to do something all want but nobody dares. In a room with about 15 client representatives, I used that opportunity to propose this 3 step process. It was not magical or extraordinary, just a radical break from the current process. Nobody in the room protested. 
The "3 steps to your insurance" process became the "template" process for all future Allianz e-commerce processes. It ended up increasing revenue by 20%. 
The slide I presented at the time which in hindsight seems like the obvious thing to do but was a bit like "thinking the unthinkable" back then. 
Some of the roughly 100 modules that the team and I created and documented in three viewport sizes. Each element was numbered, its role and  structure where described in text form in Confluence.
Our team production board in a world before digital Asset Management in Sketch or Figma.  Modules were assigned to particular UX designers who worked them out in detail.
Our responsive test station. 
During this project I learned some important things I end up teaching today: how to optimize UX production workflows to save thousands of EUR of production budget and endless correction hours. I created and established a new procedure that became the central UX change management workflow for a team of over 350 people.
The amount of people in the team and their spread into 5 units in 2 companies in 4 physical locations behind firewalls meant a sea of  Word and Excel files with daily changes. People lost track of what the most current version of a routine, a data entry field or any other feature was. 
I called the InDesign in which I tracked all changes  "UX bible". It had more than 100 pages and after a few months, everyone in the team used this one document exclusively for all concept and production questions.
Are a few of the over 100 pages of the "UX Bible" I created and maintained for over a year. What makes car insurance so complex is that depending on what you filled out in form element 3, 9 and 25 on page 1 would change form elements 7, 12 and 14 on page 2, or page 3. The process was so complex, nobody in the team knew all dependencies. The only place where they were all tracked and put into context was in this document that I updated and send around daily. 
UX concept and change management processes for large teams, the essential learnings
You need one master concept that is "today"s news"  Updating the concept doc and sending it out every day to replace yesterdays version is not only the way to go for newspapers but a basic requirement in any large UX project. 
You need it to be simple and visual. The central concept doc should describe complex multifold "if this then that" dependencies in simple terms using real UI assets. 
You need one version for all One  central concept doc can be used by the client in internal sign-off meetings, by UI designers to know what assets to create, where they would appear and how they behaved, by Front end developers who create responsive grids and assets, by backend developers to know what had to happen when and where.
You need a "hub concepter" If the author is also the UX strategic concepter and concept lead, nothing got lost in translation or hand-over.
Our team production board in a world before digital Asset Management in Sketch or Figma.  Modules were assigned to particular UX designers who worked them out in detail.
Two members of the team are working with UX Bible printouts of the wireframes I had created for processes and individual pages, checking and updating details.
Right after launch, visits went up 10%. Car insurance sales have since increased in 2020 alone by 821.000 insured cars to currently altogether 8,7 million contracts.
My contributions were UX concepts that increased sales, saved cost and heightened brand value. I  also controlled the accuracy of UX standards and design assets and make sure everything launched according to plan. 
"It was a remarkable handshake of all team members that drove this project to victory. They even accommodated the often feared last-minute changes from higher stakeholders without complaint. Normally one can't move a driving train onto an unknown track. Multiple times, my people quickly build a bridge over a river, and laid down new tracks. That never works without the right kind of humor."
"Es war ein beispielloser Handshake, der das Projekt in die Zielgerade gebracht hat.Die Teammitglieder nahmen auch die beim Hausbau gefürchteten Last-Minute-Wünsche der obersten Bauherren sehr sportlich. »Man kann normalerweise einen fahrenden Zug nicht einfach auf ein unbekanntes Gleis leiten. Meine Leute haben öfter mal schnell eine Brücke über einen Fluss gebaut und dann neue Schienen gelegt.« Das geht nicht ohne Humor."
Christian Ulbricht, Project lead, Allianz, München
"Previously on the site, all we had for the car insurance was a small scale effort. Now we see a ten times greater number of visitors."
"Wir hatten vorher auf der Webseite für die KFZ-Versicherung nur eine Schmalspurlösung. Jetzt haben wir eine Steigerung der Besuche auf den Seiten zur KFZ-Versicherung um den Faktor zehn." 
Klaus Driever, Lead Digital Sales, Allianz, München
Sources and related links